Case Clearance
!!
My accountant said it was "financially irresponsible" of me to be sitting on guitar cases I don't use so I'm having a clearance sale on all old inventory styles. All cases are brand new, but may have a scuff or two from storage. Prices do not include shipping. Here's what's available:
1.) Cedar Creek Grand Concert Case:
Fits my Grand Concert model, Olson SJ, Ryan Mission, Goodall Concert, and other similar models. Dimensions: 15-14" lower bout, 11" upper bout, 19-1/2" length, and up to 4.5" depth. Black Tolex w/Royal Blue interior. Qty. 1 left at $135.00 each.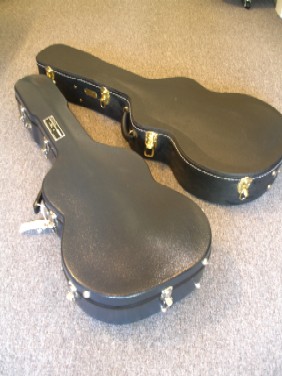 New Vintage Series
I'm pleased to announce that I am now offering two new models in the Vintage Series, the "OM" & the "Nick Lucas". These will compliment the Slope Dreadnought Model introduced two years ago. A lot of time and research went into developing these models to create guitars with a real "vintage" vibe so I consider them to be more authentic re-creations than my own personal take on the originals. Please see the Models page for specifications and more details.
New 8-String Model Now Available!
Also added to the line-up this year is the new 8-String Model. Click on the image below for a write up in the Feb. '06 issue of Acoustic Guitar, or here for more details and specifications.
July 2003 Acoustic Guitar Magazine Features Eichelbaum Guitars
Eichelbaum Guitars was proud to be the featured maker in the Gearbox section of the July 2003 Issue. Click on the images at right to see the article or visit www.acousticguitar.com for back issue information.
<![if !supportEmptyParas]>
<![endif]>
What They're saying...
"My Grand Concert is all the guitar anyone could ever need. A class act all the way."
J.G.
and...
"I've had the privilege of playing some fine acoustic guitars over the years. But not one of those great experiences can compare to my Grand Auditorium Cutaway. In every category the Eichelbaum comes out on top. The craftsmanship is unparalleled; the tonewoods impeccable; the finish like a mirror. The sound is rich and defined, while articulate, and highly controlled - all at the same time. My GA plays at the speed of thought, as if intuitively hard-wired to my brain. No matter what I'm playing: from power strumming to the most subtle fingering. I've never heard any other guitar able to accomplish that. It seems built to completely remove the barrier between guitar and player. Truly remarkable! Of all the things I enjoy about my guitar just sitting back and visually taking it in - from all angles it's truly a work of art."
L.P. - South Carolina
and...
"At a recent King of the Hill session we did a shootout of seven very nice acoustic guitars. When I played the Eichelbaum everyone said: 'That's the one!'"
My Eichelbaum Grand Concert Guitar especially likes altered and dropped tunings. So whether I'm scoring a tense moment for Hank Hill, recording tunes for my EKO albums, or I just want to relax and have some fun fingerpicking it's my first choice.
John O'Connor, recording artist and Composor with the FOX TV series "King of the Hill"
more....
"My Eichelbaum Grand Concert Guitar has enormously round, fat, individual notes, much like a fine classical guitar. It seems perfect for the jazz fingerstyle that I love to play, but it also sounds marvelous for 'plectrum-style' jazz, which many people associate with archtops. I love to surprise students by playing the Eichelbaum in settings where an archtop or classical would be the 'normal' instrument of choice.
For me, its size, style, and neck dimensions and visual appeal are a constant source of pleasure. A pro jazz player friend recently came over and played all my acoustics, and pronounced the Eichelbaum his favorite...last I heard, he was saving up for one!"
Paul Asbell, musician and teacher
Find out more about Paul Asbell's unique musical talents, gear, and his new CD at: www.paulasbell.com
still more...
"I wasn't sure I was qualified to offer an opinion about David's instruments, only being an 'amateur'. But I do appreciate and recognize quality when I see and hear it. I have the pleasure of owning the first Slope Shoulder Dreadnought along with a Grand Concert. Both instruments are truly amazing in their own way...multilayers of sweetness that you truly get lost in. I have played many fine guitars in the past 18 years and the quality of workmanship, playability, and sound of David's guitars are unsurpassed by any other.
K.D